free crosswords puzzles online :5200 - Wednesday,29-03-2017
CNN.com - RSS Channel - HP Hero
Trump's daughter to become a government employee, raising nepotism questions
---
Opinion: Ivanka's role raises red flags
---
Ivanka Trump will make White House job official
---
Ivanka and Jared Kushner's ever-growing spheres of influence
---
Co-pilot dies during 737's landing in New Mexico
---
Church bus, pickup collide; 12 dead
---
McCain threatens shutdown over defense spending
---
Trump makes rare Iraq comments
---
Oklahoma 911 caller: Three people broke into my house. I shot two.
---
Amazon to start collecting state sales taxes
---
Bridgegate: Prison for Christie allies
---
April Ryan asked most important question of Trump presidency
---
Spicer, Ryan take new tone
---
Napolitano returns to Fox News. Stands by false spying claim.
---
Outrage grows over Congress' Internet privacy vote
---
Free printable Crossword Puzzles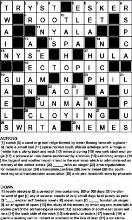 ---
| Rank | UserId | Score | Time(s) | Crossword Id |
| --- | --- | --- | --- | --- |
| Rank | UserId | Score | Time(s) | Crossword Id |
| 1 | Alfredo | "2" | "6.447" | "11x11_00000" |
| 2 | Sonia | "2" | "7" | "11x11_00000" |
| 3 | Alfredo | "2" | "82.906" | "1111_01000" |
---