Welcome to Alfunstuff.com! Free Puzzle Games,Printable Logic Puzzles,Crossword Puzzles
Choose between thousands of free printable logic puzzles with grids,Typing games and fun educational games: crosswords puzzles,Illustrated crossword puzzles kids,wordsearches,codeword puzzles,sudokus and wordokus,to print or to play online,and also flash games and classic video games like Tetris,hangman game.
The most of the free typing games are available in eight different languages.Check also the word games for kids and the cool math games for children

---
---
This site was created with a twofold purpose:

- Offer a free easy way enjoy playing cool puzzle games (logic puzzles with grids) that help keep the brain active and young.

- Improve Learning languages and improve foreign languages skills through the different online puzzle games offered in eight different languages.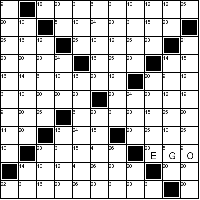 ---
---
General info about Crossword games and printable logic puzzles with grids,learning languages games,Typing games kids
Articles about Cool puzzle games,logic puzzles with grids,typing games kids
»
Crosswords puzzles can delay memory loss (telegraph.co.uk)
Researchers from Albert Einstein College of Medicine,in New York,found that performing a mental exercise like a
logic puzzles games with grids
and
word games
twice a day could help delay the rapid memory loss associated with dementia for more than a year.
Cool puzzle games,logic puzzles with grids,typing games kids related links
»
Crossword - Wikipedia
A
crossword
is a
word games
that normally takes the form of a square or rectangular grid of white and shaded squares. The goal is to fill the white squares with letters,forming words or phrases,by solving clues which lead to the answers. In languages...
»
Word Search-Wikipedia
A
word search
,
word find
,
word seek
,
word sleuth
or
mystery word puzzle
is a word game that is letters of a word in a grid,that usually has a rectangular or square shape. The objective of this puzzle games is to find and mark all the words hidden inside the box,cool puzzle games,cool games..
»
Fill In Puzzle games (Crusadex) - Wikipedia
---